Shield Nickel Design Hubs - Obverse Hubs
Obverse hubs are most easily differentiated by looking at the upper barb of the left arrow. If it's not clear to you where that is, the red circled area in this picture will help: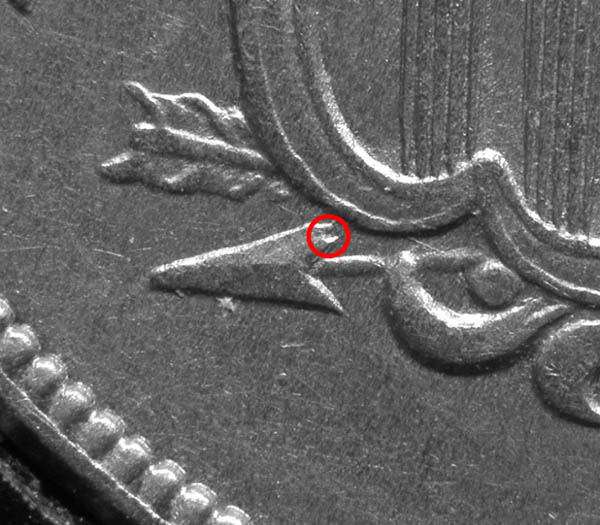 Area of Interest
The photos provided for each obverse below show the area of interest plus another photo of the entire obverse. The photos of the entire obverse may show varieties (doubled die obverse, repunched dates) which may be ignored for the purpose of depicting the hub designs.
Obverse A
Used 1866 through 1869. Obverse A has a notch in the upper arrow barb. In addition, when the Obverse A hubs were created one of the laurel leaves in the second grouping from the top on the right side of the shield was omitted. This leaf was hand engraved (except when the die makers forgot to do it, creating the "missing leaf" varieties). So, another marker for Obverse A is that the shape of the leaf can vary widely, while it is uniform for all of the other obverses.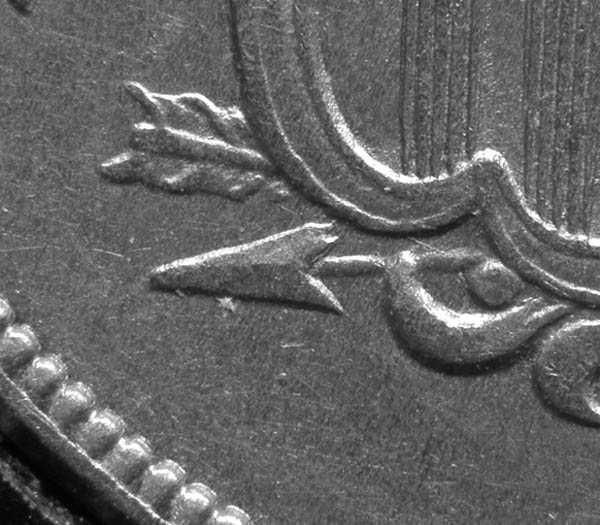 Obverse A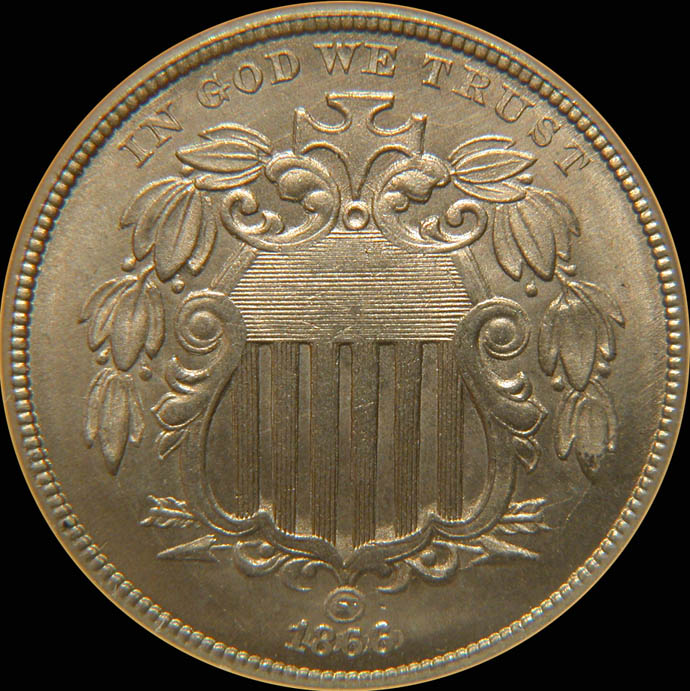 Obverse A Full
Obverse Ap
Used for 1866 proofs only, this obverse differs from Obverse A by the inclusion of a center dot.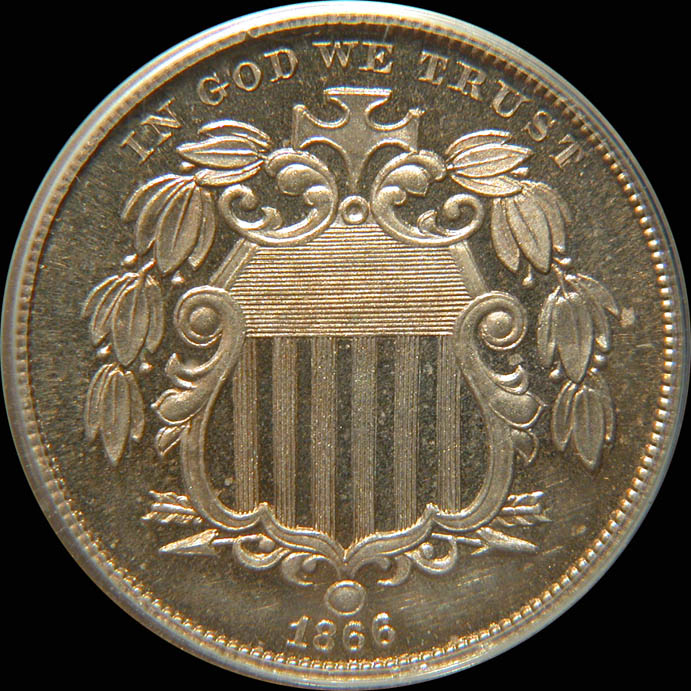 Obverse Ap Full
Obverse B
Used 1869 through 1872. Obverse B has a sliced off appearance to the upper arrow barb. Perhaps the engraver got too close to the shield?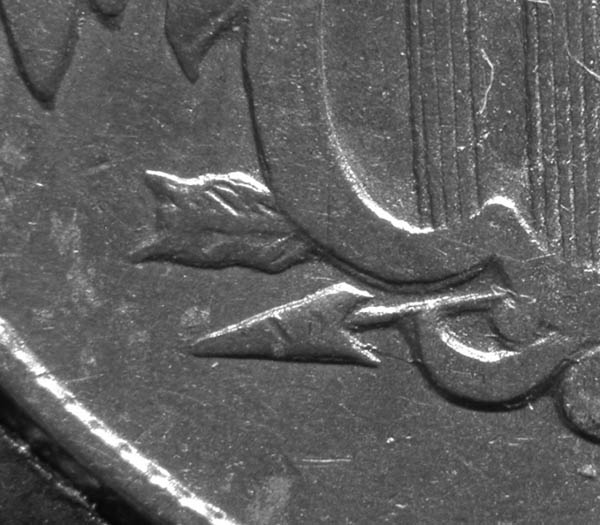 Obverse B
Obverse B Full
Obverse C
Used 1872 through 1883. Obverse C has a full and complete arrow barb. Note that the upper arrow barb and the lower arrow barb look quite different - this is normal for Obverse C. There is what appears to be a slightly flat area paralleling the shield reminiscent of the sliced off barb of Obverse B, but it is nowhere near as pronounced. Do not get confused by this.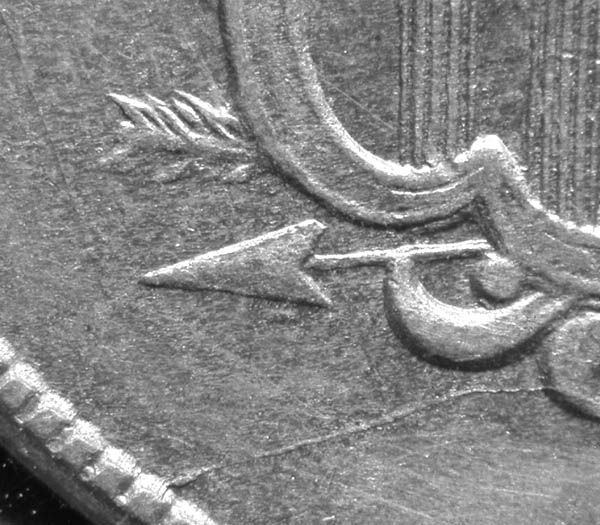 Obverse C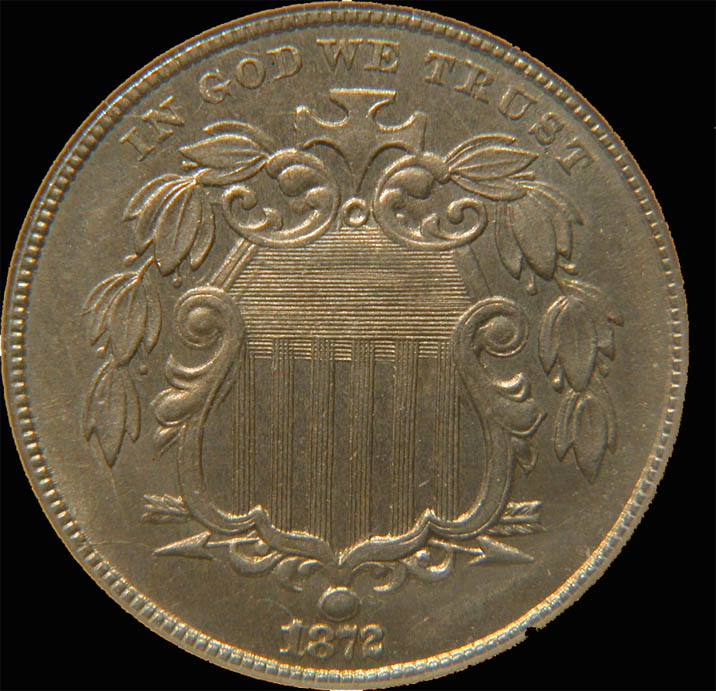 Obverse C Full
Mystery Obverse
On some shield nickels in my collection I see an arrow barb that doesn't quite fit any of the above descriptions. It is somewhat like Obverse B in that it is sliced off, but the sliced off part is much closer to the shield than in Obverse B. The overall shape of the arrowhead is most like Obverse C, especially at the barbs, but the tip of the arrowhead has a rounded underside unlike Obverse C. I have been unable to ascertain whether this is actually a different hub or some sort of die variety. My best guess is that it is really Obverse C impressed heavily into the die, thus causing some spreading of the design. Comments from viewers are welcomed.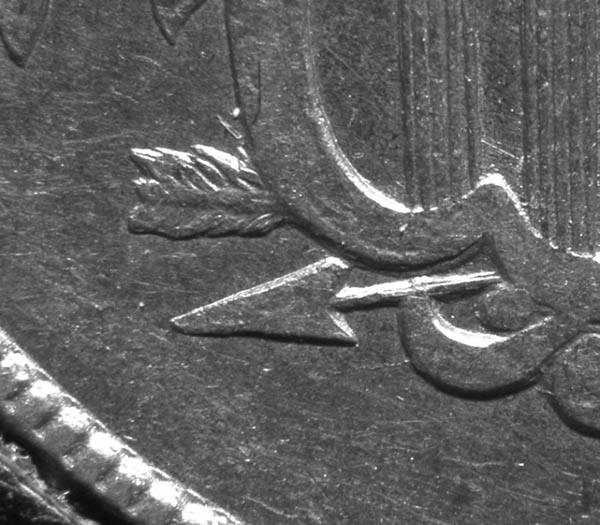 Mystery Obverse
This page copyright (C) 2004, 2016 by Howard Spindel. All rights reserved.