Digital Coin Photography
Hints and Tricks
I receive many questions from viewers of Shieldnickels.Net about how I create some of the detailed photos of coins seen on the site. So, I created this write-up to tell you how.
I use a 3 megapixel Nikon 995. This is a great camera. Unfortunately, it's no longer made, but can still be picked up on eBay (or its successor, the 4 megapixel Nikon 4500). The swiveling design is terrific for use in photographing coins. The Nikon seems to do a great job getting the white balance right in auto white balance mode - can't say if other cameras would do as well. To see a picture of the Nikon 995 and read a review, visit Steve's Digicams, which is a great site for camera reviews. The 995 review starts on this page:
http://www.steves-digicams.com/2001_reviews/nikon995.html
The camera you use is probably much less important than how you use it. I would expect to be able to get good results with any 3 megapixel (or greater) camera. However, the Nikon 995 and 4500 have the singular advantage of maintaining focus throughout their zoom range in macro mode. All other point and shoot cameras I've investigated only maintain focus at the widest end of the zoom range in macro mode. For extreme closeups, I strongly recommend the Nikons.

Here's my digital coin photography hints and tricks:
Digital zoom on a camera is not that useful except at the smallest zoom factors. For best pictures you should try to remain within the optical zoom range of the camera. Digital zoom is a "pixel replication" zoom - thus it introduces fuzz into your picture. I occasionally do use the digital zoom, but I try to stay in the lower end of magnification.

I always use indirect light. As weird as it sounds, I take pictures in a bathroom that has a big plate mirror. I bounce light from two tensor lamps set at different angles off the mirror. I never shine light directly on the coin - that creates too much glare off the coin. Getting your coin well lit without creating glare is the single biggest key to successful coin photography!
I use a third party macro lens instead of relying on the camera's built-in macro mode. I get much better results that way. By the way, when you put a third party macro lens on your camera, don't simultaneously set your camera for macro mode. It's intuitive that you would want to set your camera for macro mode, but it just louses things up.

I use a remote shutter release so that in tripping the shutter I do not shake the camera. With digital cameras a remote shutter release can be a pricey item - it's not like the old mechanical release you may be used to from a 35mm camera. It's worth the money. An alternative to using a remote shutter release is to use the self-timer feature of the camera to automatically trip the shutter.
I use aperture priority mode on the camera rather than full auto. I close the lens down (higher f-stops) to increase the depth of field. This allows greater leeway in focusing. At a macro level, focusing is very critical.
A digression for those unfamiliar with camera terms - if you know all about apertures and exposures and depth of field skip this blue text.

Aperture describes how wide the lens of the camera will open when taking a picture. Exposure determines how long the lens will remain open. Many people use their digital camera in full-auto mode - this means that the camera automatically picks both the best aperture and exposure for the photograph. When taking typical snapshots this works quite well, but it does not work well for coin photography.

Setting the camera to aperture priority mode means that I am telling the camera how wide to open the lens. The camera will still choose for me how long to keep the lens open - the exposure.

Depth of field describes how much of the image will be in sharp focus. A greater depth of field means a greater area of sharp focus at different distances from the camera lens. Depth of field is related to aperture - the smaller the aperture, the greater the depth of field. So I choose to use aperture priority mode so that I can select an aperture that will allow a greater depth of field. When using a macro lens focusing becomes very critical, so increasing the depth of field is very beneficial.

Aperture is measured in f-stops. Higher f-stops mean smaller lens openings.

Just for your information, most digital cameras can also be put into shutter priority mode. This allows the photographer to choose the exposure while the camera chooses the aperture. This is good for fast moving objects - long exposures create motion blur. I have yet to see a coin jump up and move around while I was trying to photograph it, so shutter priority mode is not useful for coin photography.
With the lens stopped down to at least f8, longer exposure times are needed. I typically am shooting with a 1/4 to 1/2 second exposure (the camera controls the exposure). Naturally, the long exposure time makes the camera stand and the remote shutter release mandatory to avoid blurring the image.

I shoot at somewhat higher resolution than I need and resize them down in Photoshop. I usually shoot at 1280x960 resolution. This is more than needed for display on computer monitors. I get fine results on 4x6 prints at this resolution, but if I wanted to go larger than 4x6 I would increase the camera's resolution.

The camera is set to produce its best quality JPEGs. I might get very slightly better results with lossless TIFFs, but the size of the resultant data files is a nuisance. I save all of my master shots in best quality JPEGs. I can always downsample an image with JPEG compression later, but I can't add detail back in if the image has already been downsampled.
If the color of the coins comes out weird, try using white balance bracketing if your camera supports it. Otherwise, the color can also be corrected in post-processing (e.g. Photoshop) on the computer. Frequently it is also useful to slightly boost the brightness and contrast (and maybe do one level of sharpening) in post-processing. On red copper coins I occasionally have to boost the red slightly in post-processing.
I photograph coins on a black background. In post-processing I cut out the entire background and matte the coin with a completely black background. Since I photographed with a black background, if I am not able to crop the coin out exactly at its edges it isn't noticeable when I matte the coin. This is especially useful for irregularly shaped coins like cobs. I find that most coins look best on a black background, but if you disagree feel free to matte to a different color.
With the above setup, photos of entire coins are a snap (literally <grin>). Photos of features like repunched dates can still be a little bit fussy with the focus - sometimes I have to take a couple test shots before I get the camera positioned on the camera stand exactly right. 1/4 inch off can make a big difference when one is blowing up a tiny date on a small coin.
Here is just one sample of the quality of photograph obtainable with the above setup. This is a photograph of a dramatically repunched date on a shield nickel. The actual size of the date is comparable to the size of the date on a modern (Jefferson) nickel.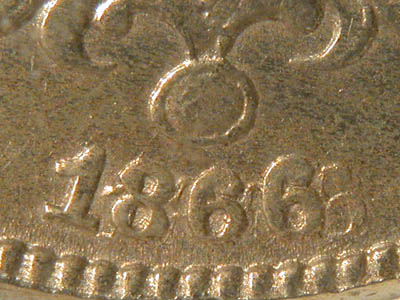 This page accessed
times.
Changes last made on: Thursday October 12, 2006 14:16
This page copyright (C) 2005 by Howard Spindel. All rights reserved.